See on Scoop.it – Teacherpreneurs and the education revolution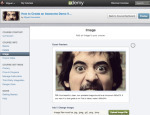 Online video education is a hot space right now, thanks to the likes of Khan Academy, Coursera, Udacity, StraighterLine, Lynda.com, CreativeLIVE (and many more), which are collectively on a mission to democratize education and bring affordable, online learning tools and courses to a global audience.
Finding ways to empower educators with technology and digital learning tools is becoming all the more important, and sites like TeachersPayTeachers that offer teachers supplemental compensation for the work they do every day (with the additional time-saving benefit of not having to reinvent the wheel every night, which then frees them up to focus on, say, how to personalize instruction) can play a key role in improving learning outcomes — and the system as a whole.
Like TeachersPayTeachers, Bali tells us that Udemy recently had its first instructor reach $1 million in sales, an important milestone in terms of demonstrating the value of the marketplace model — along with validating Udemy's approach.
The million-dollar milestone and the redesign of its teacher-facing UI come on the heels of strong growth for the startup over the last year. Over the last nine months, the co-founder said, the company has been seeing steady 20 percent month-over-month growth. To date, instructors have published 5,000 courses on Udemy in subjects ranging from self-help and design to photography and programming, with 1,500 of those being paid courses — a number that has increased 7-fold since last year, Bali said.
See on techcrunch.com